Quick and Easy Plastic Swaps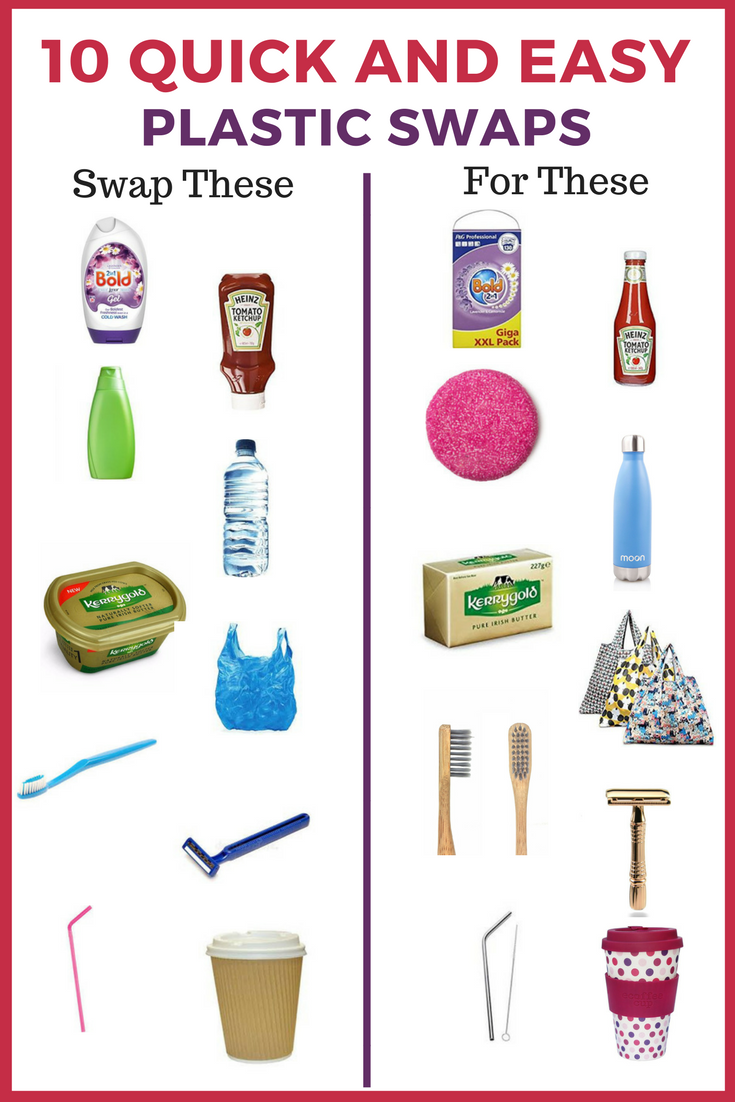 Swap Clothes Washing Liquid to Washing Powder
*This post may have affiliate links, which means I may receive commissions for ebay and amazon if you choose to purchase through links I provide (at no extra cost to you).

So easy to do. Next time you are shopping avoid the washing liquid for clothes and replace with the powder which we all used to use a few years ago. The powder comes in a cardboard box so once it's finished you can break it down and put it in the recycling bin.
To have even more impact buy the biggest packet you can, less cardboard is used. Also consider using Bold 2 in 1 as then you don't have to buy a separate fabric condioner in a plastic bottle either.
Ditch the Plastic Bottles for a Water Bottle
Invest in a reusable water bottle and never buy a plastic one again. It's worth investing in a good one which can be used in summer and winter for hot and cold drinks.
For example, the Moon water bottle will keep your drink warm for up to 12 hours and cold for up to 24 hours. So it's a great alternative to picking up a take away coffee as well.
These kind of bottles can be used for travelling, the gym, in the car, at work and at home.
Swap Shampoo Bottles With a Shampoo Bar
Plastic shampoo bottles are another bottle that can be consigned to history. Swap them with a shampoo bar. There are lots you can try for your hair to see which works.
My experience
I tried a cocount oil shampoo bar. It lathered and washed my hair well. When it was on my hair it felt like a really good shampoo However, when it was washed off my hair it did feel strange, not like after a normal shampoo. I then put on my normal conditioner and followed my normal hair routine. And my hair felt and looked really good so I'm not a shampoo bar convert.
Lush have a really good range of shampoo bars which have some fantastic review so are worth checking out. You can also purchase a tin for the shampoo bar as well.
Other Advantages of a Shampoo Bar
They last a long time. They are small, compact and lightweight so great for travelling and taking to the gym (although you will need a container to store them in).
Replace Shower Gels and Handwash with Soap
Often getting rid of plastic means going back to basics. Remember when we all washed our hands with soap instead of handwash? If we go back to doing that we will be ditching a lot more plastic.
Soap has moved on. It doesn't have to be drying. Try the Dove original beauty bar.
Like shampoo bars soap can be long lasting. It can be a lot more economical then buying shower gel and handwash. They are small, lightweight and easy to pack when travelling too.
Buy Tomato Ketchup in Glass Bottles and Repeat
Squeezy plastic bottles have been sold to us as a great alternative to the original glass variety. But it's bad for the planet and actually the glass alternative can be cheaper as well as easy to recyle.
Put the glass bottles in your shopping trolley as an easy swap. Of course this isn't only for tomato ketchup but for mayonnaise, brown sauce and even jam if you've started buying the squeezy variety.
Keep a Fold Up Shopping Bag in Your Pocket
How many of us still get the 5p plastic bags because we've forgotten our reusable shopping bags. Quite often in the boot of the car. It's so easy to do when you have a hundred other things on your mind.
A good way around this is to keep a foldable reusable shopping bag in  your pocket or in a handbag. If it's on your person you don't have to worry about forgetting it. It will be there when you need it.
Avoid Butter Spreads in Plastic Tubs
Avoid the butter spreads in plastic tubs and go for foil wrapped butter instead. If you need to invest in a butter dish to keep it in.
Invest in a Safety Razor
How many disposable plastic razors do we all get through. I shudder to think. It's expensive to invest in a safety razor compared to buying more disposable ones but over the long run it will save you money.
Bamboo Toothbrush
You can buy these in bulk and they are not really much more expensive than the plastic alternative. Bamboo toothbrushes are Eco friendly and biodegradable. Definitley worth a try.
Reuseable Coffee Cup
Single use coffee cups are one of the worst ways we can overuse plastics so avoid them altogether by using a reusable cup. You can purchase a reuseable cup at places like Starbucks and then you will have a discount every time you purchase a coffee. Alternatively make your own coffee and use your own reuseable flask or cup. Check out the ones featured here.
Swap Plastic Straws for The Stainless Steel Variety or Nothing
Mcdonalds have stopped leaving out plastic straws on the counter in some of it's branches to cut down on the use. Plastic straws are only use once and then discarded so avoid.
You can try drinking your milkshake wihout a straw? Just take off the lid or replace it for the stainless steel variety.